We typically complete this unit in January.  Here are some of my favorite books to read aloud during this theme: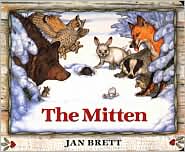 J
Jan Brett's website is a fabulous resource for any of her books.  Here are some of the free printables that she has available for her book, "The Mitten":
Mitten Character Masks I laminated these and stapled them to craft sticks. I place them at a center, and students use these masks to retell the story.
Put the Animals in the Mitten Activity this can either be colored and laminated for story sequencing, or your students can make their own to take home.
Animals from the Mitten Coloring Page
Marcia Goudie has created some great printables available from her website that she shares:
Mitten Counters these cards can be used for several activities, such as counting and matching. They would also make a fun memory game!
Animals of the Mitten Worksheet use this worksheet to create patterns or for word problems. It's very cute!
Colorful ABC Mittens these are full color and would be perfect for building words!
Mitten Sight Words these would be perfect for a center activity. Just copy or print onto cardstock, laminate and then cut out words. Students can play memory or sight word games with these cards.
Mitten Manipulative Pouch students can use this to store all of their manipulatives from this unit
Mitten/Hat Stationary use this for your seasonal writing with your students.
The Mitten in the Snow Emergent Reader
Mitten Math Mat use this mat with counters and dice to practice one-to-one correspondence.
Kinderprintables.com has the following adorable printables from their site:
Find the Missing Mittens note:  students write in the missing numbers
Find the Missing Mitten note:  students write in the missing  letters.
Mitten Number Dot Match note:  this is full color and be a great file
folder game!
Mitten Alphabet File Folder Game
Mitten Matching Colors File Folder Game
Center for Literacy has this great Reading Reinforcement Literacy Kit for the Mitten from their website:  The Mitten Reading Activity Kit
Here is another mitten sequencing printable available from the National Council on Economic Education  Mitten Story Sequencing
The following printable is available from http://www.wviv.org and would be a great addition to a take-home literacy bag:  The Mitten Activity Card
Mathwire.com has a ton of math related ideas for the book the mitten:  Math-Literature Connections for the Mitten
ABC Teach has this adorable mitten shape book to print:  M is for Mitten Shapebook
Here is an adorable mitten patterning worksheet that I found searching the internet:  Mitten Patterning
Kelly's Kindergarten (which is one of my all time favorite kindergarten sites!) has lots of mitten themed ideas on her January center page, just scroll about half-way down to find them:  Mitten Printables from Kelly's Kindergarten
Hubbard's Cupboard also has the following Mitten emergent reader books:
The Mitten Pocket Chart Pictures
Here are two worksheets that I created to use with my preschool students:
mitten-counting
mitten-cutting-practice-sheet
The following are ideas and printables that I have found related to the nursery rhyme Three Little Kittens:
3 Little Kittens Share Reading Lesson this is available from http://www.teachersnet.com
Three Little Kittens Coloring Page
Kittens with Pie coloring page
3 Little Kittens Maze this is available from http://www.mothergoose.com
5 Kittens poem this is a sample activity from  http://www.nelsonthornes.com
Bry-Back Manor has this adorable mitten letter match activity:
Here are some other sites that have great Mitten themed units: