Typically in September we begin to learn all about apples. This primarily occurs due to the fact that Johnny Appleseed's birthday is September 26. This truly is a fun unit to teach, and there are so many ideas that can accompany this theme!
Here are some books that I love to read to students while we are studying apples:
This is a copy of a planning web that I created to compile my ideas: apple-planning-web
Check out these adorable apple themed letters created by Kinderprintables.com: Apple BB letters lowercase Apple BB letters uppercase
Kinderprintables has lots of very cute apple themed printables in their Daily Printable section. Here are just a few links to some of her printables:
Apple Themed Days of the Week Cards
Apple Themed Months of the Year
Count the Apples Emergent Reader (numbers 1-15)
My Apple Alphabet emergent reader
Uppercase Alphabet Tracing Cards
The Virtual Vine website also has a fabulous apple themed page with printables, click here to see her home page: The Virtual Vine
Cindy has shared the following pages on her apple themed page:
Apple Themed Color Word worksheet
Find and Circle the Letter A worksheet
Counting Apples Emergent Reader book Note: You will need to either draw the apples or use Elison mini die-cuts to complete this book
Apple Pocket Chart Numbers 1-20
Apple/Letter A Counting Worksheet numbers 0-5
Write How Many Apples Counting Worksheet
Jessica Meachum's classroom website has some fantastic shared reading resources. Here are a few apple themed poetry resources that she shares:
The Apple Tree Shared Reading Chart
The Apple Tree Student Version
This is an adorable emergent reader book: Apple Happy reader
Apple Happy Shared Reading Chart
Apple Happy Student version with graphics
Special Apples Shared Reading Chart
Special Apples student version
A Little Apple Seed Shared Reading Chart with graphics
A Little Appple Seed Student Version
Down in the Orchard Shared Reading Chart
Down in the Orchard Student Version
Frog Street Press' Newsletter archives also have some very adorable apple ideas to use in your classroom. Here are some printables from Frog Street Press:
Tree Math Printable for Lesson
Apple Tree Langauge Arts Lesson
Check out this cute art project that Frog Street Press featured:
Click here for the directions: Look Inside My Apple Lesson
Here is another adorable art project idea from Frog Street Press:
Here are the directions for this project: Apple Art Project
Here is a cute little song idea that would be ideal to sing during your circle time: Fanny Had an Apple Song
Here is a cute apple eyglass reproducible, this would be cute for when your students' are reading the room and looking for either things that start with the letter A or words that start with the letter A: Apple Eyeglasses
The Education Center (they publish the Mailbox magazines) is a great resource. They sell many great thematic unit books that can be used for either reproducibles or for ideas. Here is a sample page from their Apple Theme book for preschool/kindergarten: Apple Theme Sample Pages
The kindergarten version of Weekly Reader's Teacher edition features some apple ideas, you will have to scroll down to page three, but it is worth while. There is also an apple printable included: Weekly Reader Teacher Guide Sept 07
My sister, who is a Speech Language Pathologist, shared this wonderful website with me: http://www.speakingofspeech.com. They have a great materials exchange on their website. I found the following apple themed bingo games on this site: Apple Lotto A Apple Lotto B Apple Lotto C
Mrs. Shehan's Green Gable Elementary website is also another fabulous resource! Here is a link to her September theme page that features some apple ideas: September Themes These are just a few printables that she has on her website:
TLS Books has the following worksheets that you can use with your apple unit:
Bry Back Manor also has the following worksheets to print:
One of my favorite class books to make is based upon the book "Ten Apples Up on Top" by Theo LeSieg (also known as Dr. Seuss!). Here is a printable page you can use the make a classbook (sorry, I don't remember where this came from): applesupontop
Here is a picture from Shari Sloane's website, her ideas are really cute!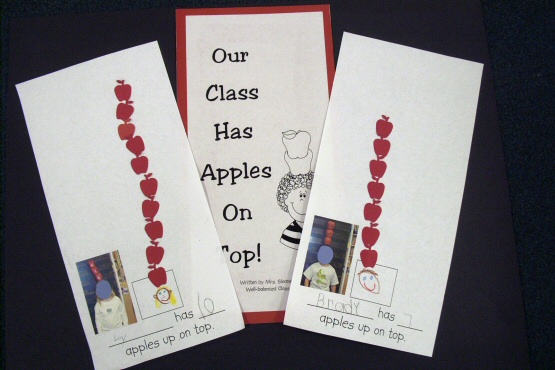 Making Learning fun also has some adorable lesson printables to accompany this story: Ten Apples Up on Top theme Printables
Here are some links to other lessons related to this book: Apples Up on Top Kindergarten Lesson Plan
Here is another classbook version for "Ten Apples…" Apples Template
Here is a link to a fall/apple unit plan that features the book, "Ten Apples…" Apple Unit Plan
I just found this apple life cycle printable on the web from Montessori for Everyone: Apple Life Cycle Cards
Check out this cute, free interactive book from Kinder Readers.  Students just write the sight words can and no to complete the story:  Apples Mini Book
Here are some of my own apple themed worksheets/station activities that I created. I hope that you enjoy them! apple-number-dot-match
apples-1-5-sequencing-activity
apple-poems Note: I used a Super Zoomer (poster making machine) to make large versions of these poems to use for shared reading within the classroom.
Update (9/21/2010): I added a new blog post on some different apple activities that I completed in my class recently: New Apple Ideas Blog Post

Here are some links to other apple themes on the web:
3. Virtual Vine's Apple Picking Time Theme